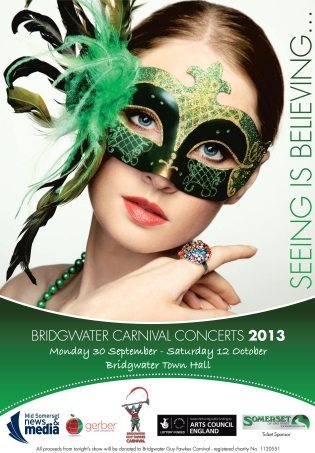 As the Somerset nights begin to draw in and the first leaves start falling from the trees as autumn rapidly descends upon us, the town of Bridgwater excitedly holds its breath for the start of the show-stopping Bridgwater Guy Fawkes Carnival Concerts.
An annual feature in the town since 1883 this year's concerts, sponsored by Gerber Juice Company Ltd and Arts Council England, are set to entertain an audience of 3,500 people when it opens at Bridgwater Town Hall on Monday 30 September.
A cast of over 600 performers from 13 carnival clubs, 2 dance troupes and 13 front of curtain acts, will grace the town hall stage during the ten evening performances which finish on Saturday 12 October.
There are still some tickets left for those who haven't yet managed to secure one, and these can be purchased from Bridgwater Carnival's online shop (www.bridgwatercarnival.org.uk) or from the carnival centre, High Street, Bridgwater.
The concert tickets, sponsored by Somerset Car Sales, will cost £8.50 (except for rows J,M,P,Y & Z which will be £9.50) for the opening performance, and £11 (except for rows J,M,P,Y & Z which will be priced at £12) for all other performances. Restricted view seats will be £8.50 throughout the concert fortnight.
Rita Jones, president of Bridgwater Guy Fawkes Carnival Committee, said: "The carnival concerts are a curtain raiser to the carnival season, and it gives members of the public a preview of what's in store for carnival night on Saturday 2 November 2013.
"I am sure once again the concerts will be enjoyed by all who watch them, and I am really looking forward to seeing the show for myself."