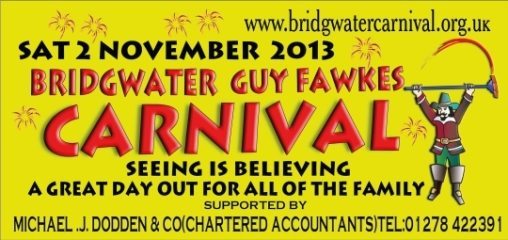 For the ninth consecutive year, a local Bridgwater accountancy company has teamed up with Bridgwater Carnival and sponsored the latest window stickers promoting Bridgwater's biggest night of the year.
The stickers can be displayed on car and house windows, and every year requests for the popular stickers are received from all over the country.
Dave Stokes, publicity officer for Bridgwater Guy Fawkes Carnival Committee, said: "The window stickers are one of the tools we have for promoting our carnival, and already we have received requests from people living in the Lake District and Suffolk asking for stickers.
"If it wasn't for the help we receive from local businesses and organisations, our carnival would not be as successful as it is, and I would like to take this opportunity to thank Michael J Dodden & Co for their continued generosity and support."
Mike Dodden, senior partner of the sponsors, added: "Carnival activities bring an enormous amount of business into the town, and it is great to be associated and involved with one of the world's largest illuminated winter carnivals."
If you would like a window sticker to display in your car or in another prominent position, call into the Carnival Centre, High Street, Bridgwater, or Michael J Dodden & Co, North Street, Bridgwater. Alternatively contact Dave Stokes by email Dave Stokes or 07909 567888.