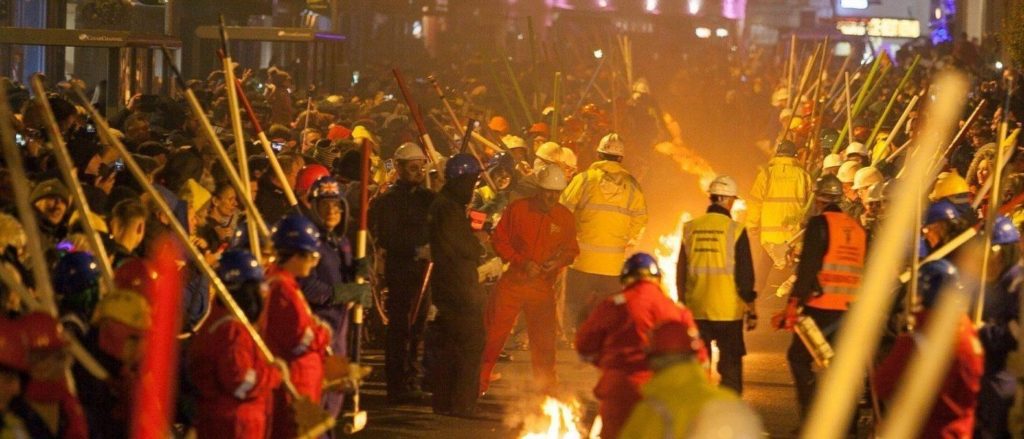 Squibbing is something very unique to Bridgwater, Squibbing is by definition the simultaneous firing of lots of large fireworks ("squibs"). Many people come to Bridgwater just to see the squibbing as it is an event that can be seen nowhere else on the planet.
In the region of 150 "Squibbers" are involved, typically members of the Carnival clubs. The Squibbers line the Bridgwater High Street (in a line of two wide) and all light their squibs at the same time. The effect is bright light being fired into the air along the road in one great long trail of fire.
The Squib itself is a large firework, strapped to a cosh (a solid block of wood which is attached to a large pole). The Squibber holds the squib at arms length above their head with the firework facing toward the sky.
The Squibbing Display is programmed to commence 30 minutes after the last procession entry crosses the finish line.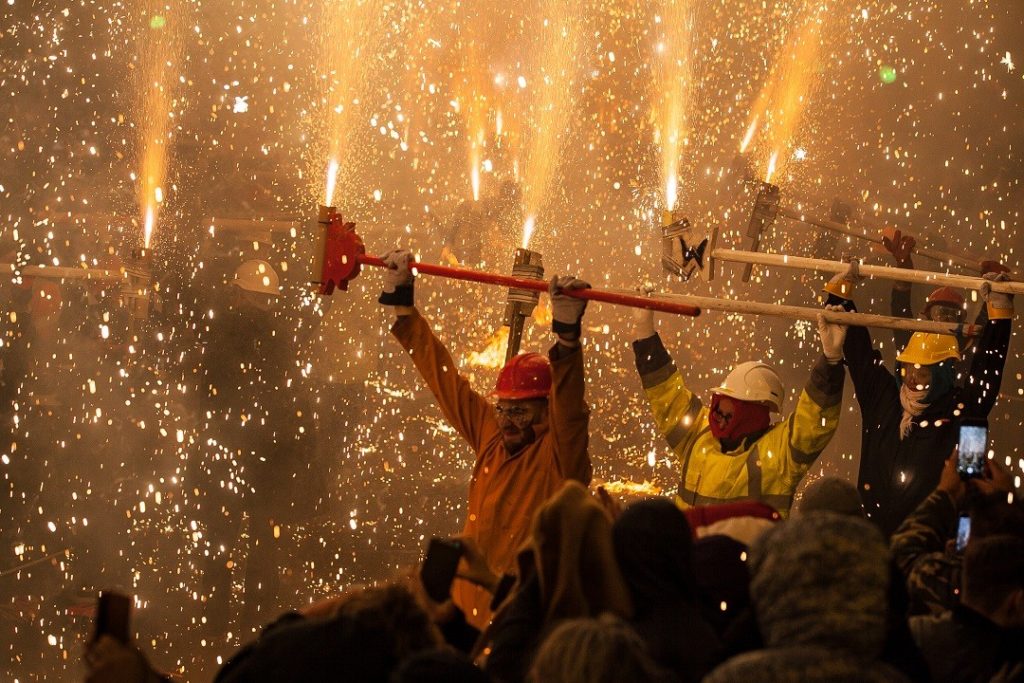 In 2006 the 401st anniversary of the "Gunpowder Plot" we had a record number of squibbers who filled the length of the High Street. We had a special squib for the 400th anniversary in 2005 and it proved very spectacular, changing colour near the end, the same squib was used in 2006. The squibs are tied on to wooden coshes lit from a flame in the road and all held aloft at arms length at the same time.
It makes a truly magnificent end to the Bridgwater Carnival festivities.
Our former Chairman, Colin Stone, sadly no longer with us gives an introduction to Squibbing on the 1988 DVD – 1988 – Squibbing – what is it all about!
Spectators should note that as with any firework display sparks will fly, you should take care not to stand too close to the squibs as Bridgwater Guy Fawkes Carnival accept no liability for damage to clothing from the sparks.
The local Bridgwater M.P. Ian Liddell-Grainger, local M.E.P. Neil Parish and Lord Tom King, our former M.P. took part in 2003
A picture is worth a thousand words. Please visit our gallery of squibbing photographs to get a feel for the event.
See our videos below for a glimpse of the full atmosphere of the event, the next best thing to being there.