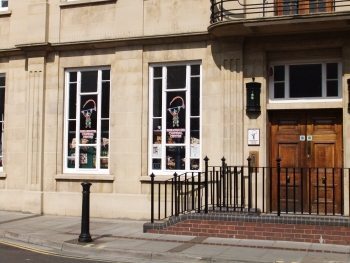 Bridgwater Carnival Centre is located in the Bridgwater Town Hall complex, High Street, Bridgwater.
The Centre, leased from the Bridgwater Town Council has become quite popular with visitors and locals after opening just before the 2010 carnival procession.
Visitors to the Centre are able to obtain information about carnival activities for the coming year, purchase souvenirs and look at photos and memorabilia from past carnivals. Since opening many local people have either donated or loaned carnival costumes and other carnival items for diplay allowing us to change the displays on a regular basis to hopefully keep the interest of visitors alive. We are always on the lookout for more material so if you have carnival items of interest you wish to donate or loan us please let us know.
Bridgwater Carnival is regretfully getting more expensive to run each year so the carnival committee have embarked on a promotion exercise over recent years to raise the profile of Bridgwater Carnival, which the Centre is part of.
Contact telephone number 01278 428220, this number is not manned 24 hours so if no one is available to answer your call you will be diverted and you can leave a message.
Opening hours for the Centre vary depending on the season and is subject to staff availability, if you are coming from away please phone first to ensure the centre is open, the current opening hours are below.
If you wish to post something to us the address is Bridgwater Carnival Centre, Town Hall, High Street Bridgwater TA6 3BL.
Monday - Friday
09:00 - 13:00
Please note the Centre is not open on Bank Holidays or between Christmas and New Year.