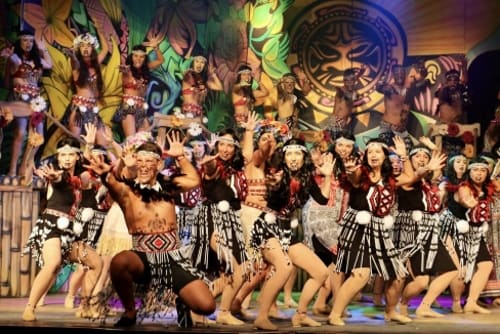 Renegades Carnival Club have been announced as the winners of this year's Bridgwater Carnival Concerts.
With their entry, Maori-Aotearoa, the club claimed the prestigious White Hart Cup for the first time in the club's history.
Katie Williams from Renegades said; "There are no words to describe how we all feel. It's never been about winning for us but these guys have worked so hard, they really deserve it. I'm so proud of every one of them. Its been a long time in the making and 54 Maori Warriors are bursting with happiness right now. Well done to every single person that has taken part in the concerts this year, it was a superb show and the comments we have received reflect that, which makes winning this year even more special. It's been a tiring two weeks and we gave it everything but I've enjoyed every single second and would do it all again in a heart beat."
Gremlins were beaten in to second place with Ramblers, last year's winners, a very close third.
In the hotly contested competition, which is viewed as a preview to the main procession, 13 Bridgwater clubs take to the town hall stage for 12 performances and are judged on various categories including costumes, set, lighting and overall performance.
Other winners were:
Wills Carnival Club – 1st place tableaux
Sally Williams Dancers – 1st place dance troupe
Jake Godfrey – 1st place single vocalist
Devon Salinas – 1st Under 17 act
Tanya and Gemma – 1st Best vocal act two or more
Viva La Diva – 1st Best song, dance, novelty act
Kevin Cripwell – Best comedy act
Renegades – Best costume
Marketeers – Best stage set
Ann Philcox – Personality cup
All attention now turns to the Carnival procession on Saturday 4 November where the clubs will fight it out once more to see who will lift the winner's trophy.
See Full Results