Grandstands seats for the 2022 procession will be available to order online (preferred option) or at the Carnival Centre from 9.00am 1st April 2022, seats price held at 2019 price, £21 per seat. We are trying to maintain the usual number of stands but the hire charge with some suppliers have increased to an amount that we could not accommodate which may mean we will not have the number of seats available as in previous years so seats may be limited. We continue to try and source further stands at a reasonable price but some suppliers will not give us a quote till later in the year, main problem being fuel costs as most come from up country and problems with getting drivers to bring them to Bridgwater. so don't leave it too late to book, tickets will be dispatched late May/June.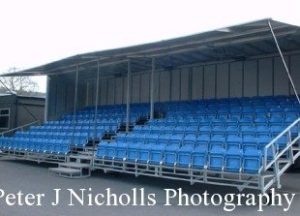 The grandstands continue to be very popular, we had 15 grandstands with over 2200 seats between them in 2019 which were sold out by early September, this year currently we have only managed to book 8 stands, see above.
Seats in the stand are numbered, so seats will be reserved, in addition they have some cover so in case of inclement weather (almost unheard of on the night of Bridgwater Carnival!).
Please note start time – After a very successful response to our trial of starting the Carnival at 6.00 p.m. in 2019 preceded by a pre-procession at 5.30 p.m, it is now our intention to keep these start times for the future. Main roads into the town will be closed to traffic from 5.30 p.m., with road closures coming into effect from 4 p.m. to allow for grandstands to be positioned prior to the procession, so if you are coming please leave early to avoid disappointment.
The location of the grandstands will be the same as 2019, in order that we can open roads earlier after the procession the grandstands will be located at the Broadway East location, adjacent to the Mercure hotel between St John Street and the river bridge and the hospitality stand in Taunton Road. The Broadway site is near the start of the procession. See the map on the location page. We are not having a grandstand in Mount Street this year.
If you are purchasing stand tickets please do not arrive at the stand before 5 p.m. as the stands need to be erected and this is very difficult to achieve with people milling around, your co-operation is appreciated.
If you wish to pre-book seats for the 2022 procession when available you can do so by going to the online Shop and place your order, a one off £1.25 per order will be added to the bill to cover postage etc., tickets will be dispatched from mid June 2022.