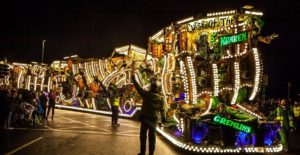 The Somerset carnival season is over for another year, and carnival clubs from Bridgwater are celebrating after winning a whole host of top county carnival awards.
After taking first prize at all seven carnivals on the Somerset County Guy Fawkes Carnivals Association (SCGFCA) circuit, Bridgwater's Gremlins CC and Coleford's Huckyduck CC shared the highly coveted Starkey Cup for 2019. Following consecutive wins in their respective feature and tableaux classes at Bridgwater, Burnham on Sea, Weston Super Mare, North Petherton, Shepton Mallet, Wells and Glastonbury carnivals, the two popular clubs shared the honours with their entries Curse of the Kraken and Those Magnificent Men.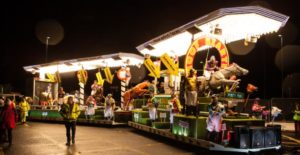 This is the first time Gremlins CC have won the Starkey Cup since their Mexican Day of the Dead Festival entry in 2016. The club, who are based at Bar 27, St Mary Street, also added to their county trophy haul in 2019 by taking 11 other major cups including, The Midsomer Norton Cup for best feature entry, The Lime Kiln CC 50th Anniversary Cup for the best decorated towing vehicle, The Butlin Cup (judged by members of the public), The Whitbread Trophy (judged by the seven carnival presidents), The Chairman's Choice Cup (judged by the seven committee chairmen), The Courage Trophy (judged at each carnival by a member of the local committee), The Charlie Denning Memorial Cup (county committee top table choice), The Keith Watts Memorial Cup for technical achievement, The Churton Millennium Shield for the best decorated generator trailer, The Terry Woods Cup for coming second in the competitors choice (classes 1 to 6) category and Paul Clapp from Gremlins CC won The Bulldogs Cup for coming second in the best dressed towing vehicle driver class.
Bridgwater's Marina Sydenham Juvenile CC (Sea Warriors) and Newmarket CC (Wacky Riders) also dominated their respective juvenile and comic classes by winning all seven county carnivals, and won The Bunch of Grapes Rose Bowl and The Bridgwater Comic Cup respectively.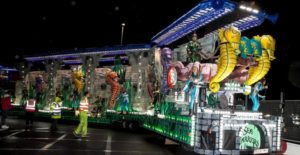 There were also other successes for other Bridgwater entries – Bridgwater Belles Dance Team won their class (group of adult masqueraders) and were awarded with The Hot Rod Gremlin Cup, Ken Marsh from Marketeers CC won The Ralph Whitting Cup for best dressed towing vehicle driver, Marketeers CC won The Stan Bown Memorial Cup with their entry Bad Guys after winning the competitors choice (classes 1 to 6) category, Cavaliers CC won The George Wigley Memorial Cup for most original adult entry with Left Behind, and Ramblers CC were awarded The Dave Arney Memorial Cup for best typical carnival cart music with their entry Welcome to the Sambadrome and shared The M&T Trophy for best feature dance routine.
Mike Crocker, president for Bridgwater Guy Fawkes Carnival, said: "We are very proud of all of the Bridgwater carnival clubs and entrants who have taken part in the 2019 carnival season, and we must especially congratulate those who have won county awards. Bridgwater is the home of carnival, and once again our carnival clubs have done their bit to ensure this reputation continues. "
Photos by Timeless Images