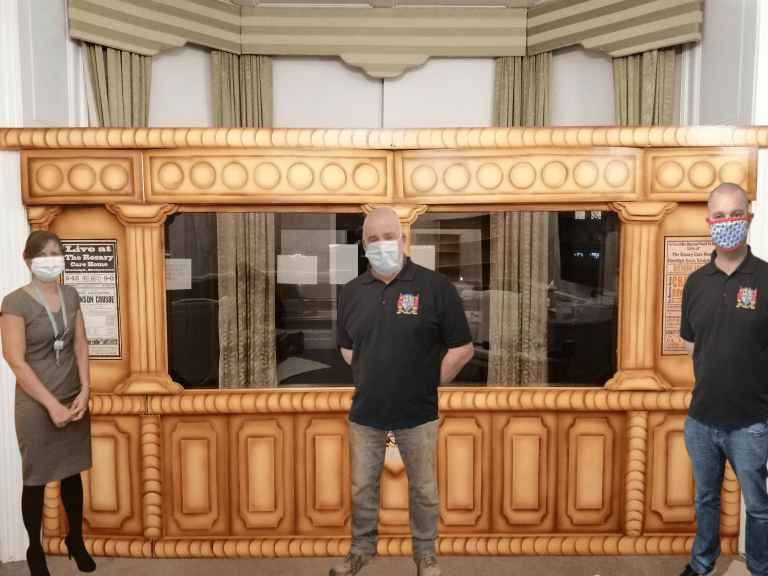 The Marketeers Carnival Club from Bridgwater have brought a bit of festive cheer to a local care home by presenting the residents with a COVID-19 secure viewing gallery screen.
The purpose built screen will support family visits to the residents of the town's The Rosary Nursing Home during the current Coronavirus restrictions, and will also provide a more comfortable experience for relatives as they see their loves ones during the run up to Christmas.
The installation acts as a secure and safe barrier. It was built and installed in line with all national COVID-19 guidelines, and it has been designed as a 'Royal Box', incorporating some personalised old music hall promotional posters and the Marketeers CC badge.
Club member Kenny Rogers was initially approached about the project and undertook the screen construction. He said: "Once we were asked to help we jumped at the opportunity to do so. With no carnival this year and to help boost the morale of the local community, this one small gesture will hopefully put smiles on the faces of those that will use it."
The Rosary's Home Manager Natali Edwards said: "Our residents and their loved ones absolutely love the screen – it has been a huge hit and has really enhanced their visiting experience. Thank you so much to everyone involved we are truly grateful."
Alan Windsor, Marketeers CC's club captain designed the artwork and added: "We would like to thank Lee Singleton of TMB Patterns for the kind donation of the perspex screens, Kellaways Building Supplies for the paint used on the project and Purnells 4 Print & Design for printing the artwork.
"Massive thanks must also go to Kenny for all of his hard work and the effort he has put into this fantastic project."
The club have dedicated the "Rosary Royal Box" to the memory of Alan Chidgey – a Life member of Marketeers CC, who was a resident of The Rosary Nursing home prior to his passing in 2018.
Earlier in the year the club used their creative skills by designing, building and donating a miniature ice cream truck to Oak Trees care home in Rhode Lane, Bridgwater.