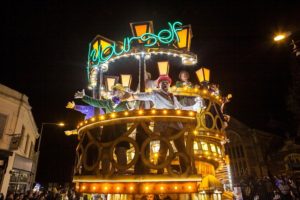 With just under two months until the carnival comes to town on Saturday 2 November, the final countdown has begun to Bridgwater Carnival 2019.
For the carnival clubs who are working on their spectacular entries, to the carnival organisers who are finalising the arrangements for the town's biggest night of the year, preparations are in full swing.
Bridgwater Carnival's origins lie in the failed exploits of Guy Fawkes, and in this, the 414th anniversary of these Gunpowder Plot celebrations, Bridgwater Carnival 2019 is set to be the biggest and best one yet.
In recent times traditional community carnival events throughout the country have disappointingly not taken place due to lack of support and resources, and the increasing amount of legislation and insurance premiums. Thankfully Bridgwater Carnival has managed to manoeuvre itself through these difficult times, and this is testament to the town's dedicated carnivalites and the invaluable support received from Arts Council England and many other local businesses and organisations.
On carnival day itself, the build up to the grand procession starts in the town centre at 10am, and carnival revellers will scarcely have time to pause for breath. There is just so much happening in the town centre during the daytime with fun planned for the whole family.
One big change for this year's event is the start time of the carnival procession. This year the carnival will start at 6pm, and over 50 illuminated carnival carts and many other walking entries will enthral the tens of thousands of people who are expected to line the route. Tommy Banner, accordionist and vocalist with The Wurzels, is also set to take part in the carnival procession and will be encouraging spectators to dig deep into their pockets and contribute to this year's street collection. The entertainment will be brought to a fitting finale when over 150 squibbers line the town's High Street immediately after the procession for the traditional squibbing display.