In the second of our 'On the Spot' series, The Squib catches up this month with Bridgwater carnivalite, Andy Meek from Ramblers CC.
Full Name
Andrew George Meek (Andy Meek)

Age
49

Place of Birth
Barry, Wales

Occupation
Operational Experience Coordinator (Engineer) for EDF at Hinkley Point B power station.
What was your first childhood memory?
Being over a park at 5 or 6 years old, when some teenagers threw a brick and hit me on the forehead. So, I remember being carried home crying and covered in blood.

Year first got involved with carnival?
I started with Ramblers CC at the age of 16 just after leaving school in 1986. However, during the late 70s and early 80s I was always following British Flag CC as both of my brothers were with them. Their involvement with Flag finished in 1985, and the following year, I got talking to my good mate Paul 'Wally' Whitehead, who asked me to join Ramblers CC as his uncle (Terry Pope) was in the club. I went along to the club's next meeting at the Bunch of Grapes in St John Street, and waited nervously in the bar while the club discussed whether we should both be allowed to join the club. To say that was a daunting experience was an understatement. Thankfully they voted us in, and I soon began to get to know everyone and was welcomed into the club. 34 years later and I'm still there. The club is very special to me, especially after I have suffered with my mental health over the past few years, and the members, who are all great friends, are always there to support me and help me through the difficult times.

What is your favourite food and drink?
Roast dinner and lager
What is your favourite holiday destination?
Orlando, Florida
Best carnival cart you were involved with?
Ramblers CC's 2003 entry Midnight Express. Everything clicked as club during this year with this entry.
Favourite carnival cart of all time?
There are numerous I could mention vying for my all time favourite including, Gremlins CC with Galactic Guardians (1978), Marketeers CC with Land of make Believe (1982), Ramblers CC with Caribbean Showtime (1986) as it was the first cart I was on and Swarm Force (2013), Masqueraders CC with Jack's Back in 2001 and Phantom (2005), Gremlins CC and Curse of the Kraken (2018).  also a bit biased towards Ramblers Swarm Force. But my absolute favourite is Ghost Ship (Deliver us) Gremlins CC in 2006.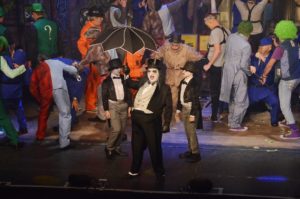 Favourite carnival concert stage performance of all time?
I obviously can't say any stage shows by Ramblers CC as that would be biased. So excluding all Ramblers CC's shows, my overall favourite would be Gremlins CC and their Victorian Shipyard production in 2014 – it was fantastic!
Favourite song on a carnival cart?
'Hit the road Jack' from Masqueraders CC's 2001 entry Jack's Back.

What has been your greatest achievement?
Apart from marrying Linda and having two lovely children (Ellie and George), it has to be winning the personality cup (The Reg Dyer Cup) on stage at the Bridgwater Carnival Concerts with Ramblers CC. This was an amazing experience, as there are so many talented people in the concerts every year. To hear your name read out is an amazing feeling. I have been fortunate enough to have won the Reg Dyer Cup three times now in 2009, 2011 and 2015, and I am so proud and honoured to have done this. These have been playing parts such as a Pharaoh, a drag queen and the penguin from Batman. Where else can you get the chance to play characters like that with all your mates?

Do you have any hobbies apart from carnival, if so what are they?
Most definitely my amazing family, Linda my wife, Ellie my 14 year old daughter,  my 10 year old son George, and Dusty our dog. I love running and helping to organise the Bridgwater Half Marathon with Cancer Research UK , which is on Sunday 6 September this year (harmless plug there). I also enjoy watching football on TV, although being a Man Utd fan it has been hard work over the past few seasons, and if I had any hair it would have been pulled out by now, especially this year. Oh and of course 'having a beer or 3'.
If you could be Prime Minister for a day, what would you pass and why?
All the wonderful care to be free in care homes in England – the older people and their families deserve it!

If you were washed ashore on a desert island and you could have five companions, who would they be and why?
Peter Kay and Michael McIntyre because they are hilarious, Elvis Presley because basically he is my hero, Tom Hanks  as he is such a genius actor and would hopefully know how to get us off the island (Castaway, and of course Kylie Minogue because she is just "lovely".

If you had a magic wand and could change one thing about carnival, what would it be?
I don't think I would change anything (well maybe apart from the weather on some carnival nights as a nice still dry night would be my preferred option, but we can only wish for that). Seriously I just hope that clubs and committees continue to pursue different and innovative ideas to push their wonderful local events forward.

What would you like to be your epitaph?
Someone who was friendly, loved carnival and gave it my all.

When are you at your most happiest?
Having a walk down the river or canal with Lin, Ellie, George and our lovely dog Dusty.