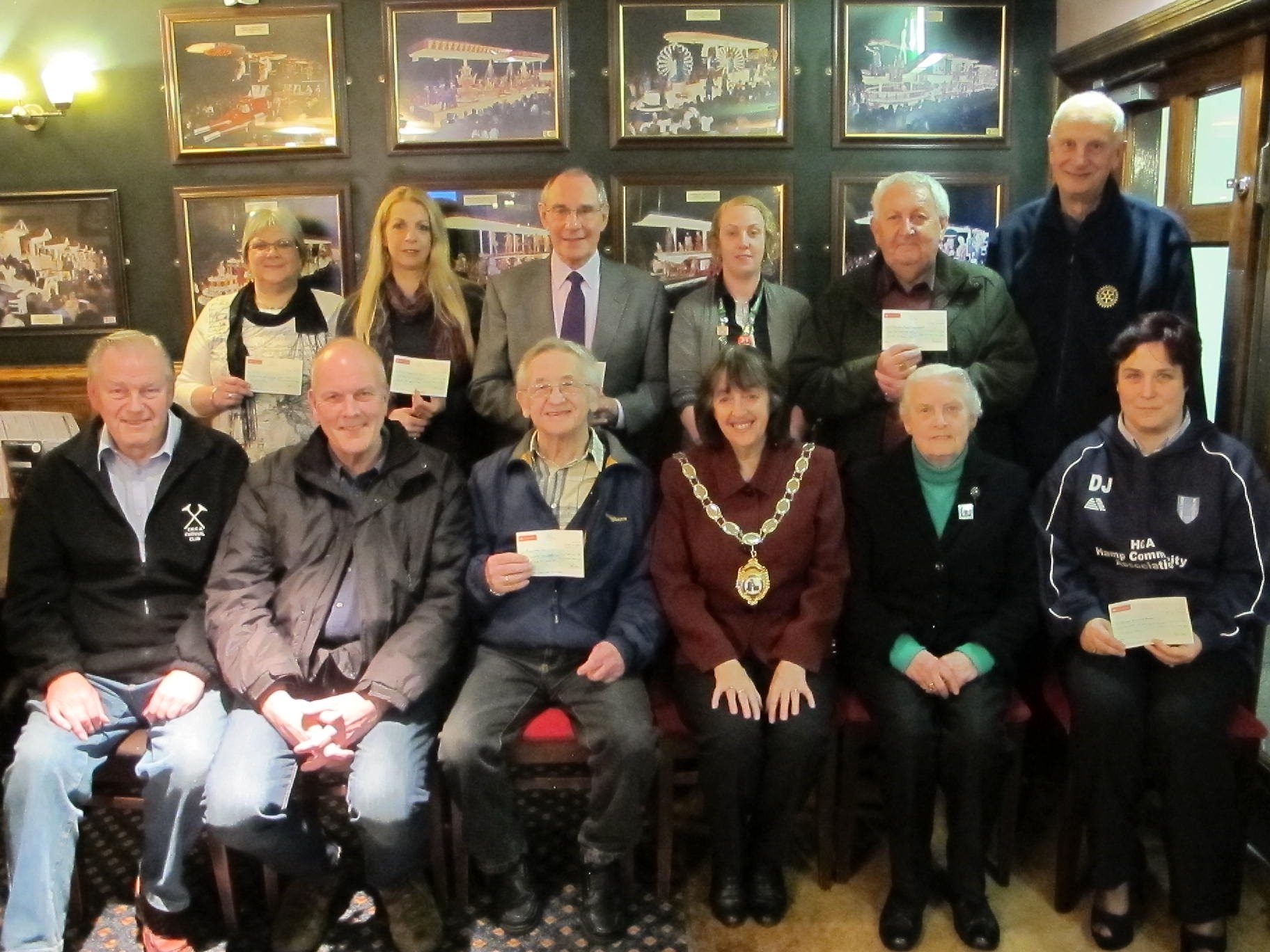 During the run up to Christmas 2014, Bridgwater Guy Fawkes Carnival Committee helped to raise over £4,000for local charities and organisations by taking a themed carnival cart around the supermarkets and streets of Bridgwater and Sedgemoor.
Bridgwater Hospital League of Friends, SNAP, Rhode Lane Wanderers FC, Bridgwater Rotary Club, Bridgwater Lions International, Bridgwater Operatic Society and some Bridgwater carnival clubs (Crusaders CC, Lime Kiln CC, Marina Sydenham Juvenile CC, Marketeers CC, Renegades CC and YMCA CC), all benefited and received boosts to their fundraising efforts, as local shoppers and residents dug deep into their pockets and raised £4,215 as they showed their appreciation for the decorated cart.
Arranged by the carnival committee's collection team, the cart's Christmas tour consisted of 18 appearances at Bridgwater Town Centre, North Petherton, Durleigh, Rhode Lane, Wembdon, Parkway, Woolavington, Puriton, Chilton Trinity, Westonzoyland, ASDA, Morrisons and Sainsburys. Accompanying the festive cart were collectors from the relevant charities and organisations, and Christmas music helped spectators and shoppers get into the party mood. Father Christmas also appeared on the cart and was kept busy talking and handing out sweets to excited children.
Rita Jones, president for Bridgwater Guy Fawkes Carnival, said: "Once again the response from the Bridgwater and Sedgemoor public was overwhelming. It is so rewarding to do something like this, especially when you see the faces of children light up when they see Father Christmas, and I do hope that everybody involved with the fun enjoyed themselves.
"This is a great way to raise money, and on behalf of Bridgwater Guy Fawkes Carnival Committee and the charities concerned, I would like to thank the organising team and the fundraisers for their efforts."
Over the last six years, Bridgwater Guy Fawkes Carnival Committee has raised over £26,000 for local charities and causes through its carnival Christmas cart activities.