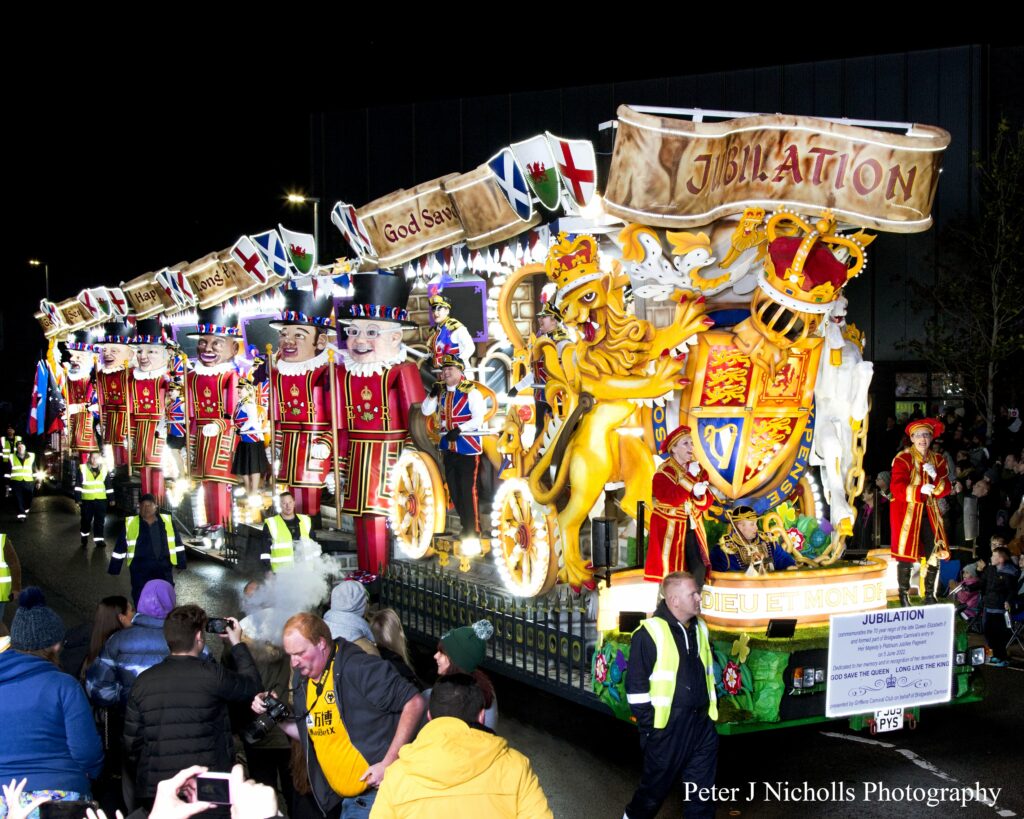 Creativity and community celebrated as Queen's Pageant cart 'Jubilation' is shortlisted for the 2022 Creative Lives Awards
Annual awards shine a spotlight on community-based creativity
37 creative groups shortlisted from across England, Ireland, Scotland and Wales
Voting now open for public to choose winner of People's Choice Award
Winners announced at Award Ceremony in Leeds on Tuesday 7 March 2023, as part of the LEEDS 2023 Year of Culture celebrations.
From craft groups to choirs, drama companies to amateur orchestras, Creative Lives is currently celebrating groups from across the UK and Ireland, and all they have achieved, through this year's Creative Lives Awards. One of the shortlisted projects this year is Bridgwater Carnival's 'Jubilation' project which took pride of place at the Queen's Platinum Jubilee Pageant in June.
Despite being the UK's oldest carnival and one of the largest illuminated carnival processions in Europe, what people sometimes fail to appreciate about Bridgwater Carnival is the phenomenal everyday creativity that goes into creating the ever-more elaborate carts and performances… and all driven by huge volunteer effort. But last year something unprecedented happened, as clubs put aside their rivalries as over 200 people worked together on a collaboration to build a cart to grace the route of the Her Majesty's Platinum Jubilee Pageant. Bridgwater Carnival was one of only 12 organisations in the UK to have received the honour to be included in this prestigious event to celebrate Her Late Majesty's life. Judging panels from each nation will choose a winner for England, Ireland, Scotland and Wales, while members of the public can vote for their favourite in the People's Choice Awards. Voting in the People's Choice Award is open until 
27 January 2023
. To learn more about the shortlisted projects and to cast your vote, please visit 
www.creative-lives.org/2022-shortlist
.
Winners will be announced at the Creative Lives Awards ceremony in Leeds on 7 March 2023, as part of the LEEDS 2023 Year of Culture's celebrations. Winners will receive a bespoke award, framed certificate, cash prize and access to support and training.
Carnival Project Director Chris Hocking said:
"Due to the pandemic we were unable to stage our annual Carnival in 2020 or 2021. So this project was a magnificent way of bringing everybody from the carnival community back together again and helping to re-kindle the enthusiasm for their favourite hobby. It was also an opportunity to tell the world that Bridgwater Carnival was back, since the Pageant was broadcast to a global audience of one billion people! As a result our Carnival parade in November attracted one of the largest audiences we have ever seen in our town."