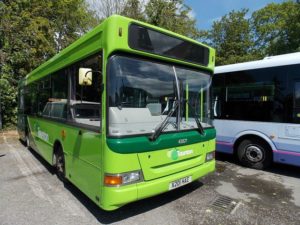 Organisers of Bridgwater Carnival have teamed up with The Buses of Somerset to provide a park and ride service for spectators attending this year's illuminated carnival procession on Saturday 1 November.
The special service will operate from two places – the junction 24 (M5) cattle market site, and just off junction 23 of the M5 at the British Car Auctions car park – and will run regularly in both directions from 3.30pm until 11.30pm on carnival day.
Both services will be clearly signposted and will cost £5 per car, with all profits going towards the official Bridgwater Guy Fawkes Carnival charity.
Gary Stephens, chairman for Bridgwater Guy Fawkes Carnival Committee, said: "This is another enhancement to the Bridgwater Carnival experience, and it should help ease the amount of traffic travelling on the main roads leading into the town on carnival day itself.
"It will also relieve the pressure on carnival goers from trying to find a suitable car parking space near the procession route, and will make leaving the town easier for everybody after the procession has finished. On behalf of Bridgwater Guy Fawkes Carnival Committee, I would like to thank The Buses of Somerset, Junction 24 and British Car Auctions for their support with this scheme."
Lee Jones, operations manager, The Buses of Somerset, added: "Bridgwater Carnival and its associated activities bring much trade to the local businesses all year around, and it makes perfect sense for us to work in partnership with the carnival committee to promote the town."