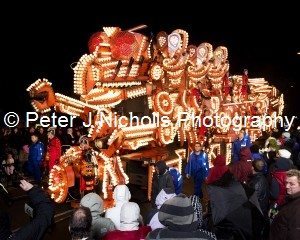 They came in their droves. They came to a small town in Somerset to see something very special. They came from all corners of the UK. They even came from as far away as Canada, America and Australia. They came to see one of the largest and most spectacular carnival processions in the world. They came to Bridgwater Carnival 2013. They were not disappointed.
Bridgwater Carnival 2013 will go down in the history books as the carnival the weather forecasters tried to ruin. They predicted extremely high winds and prolonged torrential rain for the entire night. They were wrong. They had not counted on the formidable and special spirit which is Bridgwater Carnival.
Before the procession started, the crowds descended into the town centre to sample some of this carnival spirit. And they were not disappointed. Generous support from main event sponsors Gerber Juice Company Ltd and The Arts Council of England, and other local sponsors consisting of local businesses and organisations, ensured a fun packed carnival day packed full of top class entertainment, which any town in the world would be proud to host. The biggest cheer of the afternoon was reserved for 150 local school children whose moment of glory came as they danced their way through the streets of the town centre. A small rain shower didn't dampen their carnival spirit.
Later in the day as the official Guy Fawkes cart at the front of the carnival procession first came into view, the many tens of thousands of people lining the streets, hurriedly jostled for the best position. The main event was starting and they did not want to miss a single second. After two hours of mesmerising views, described by one spectator as "the West End on wheels", it was all over. But what fantastic memories.
For the first time since 2003 Ramblers CC took the accolade of overall winners with their breath taking entry Swarm Force, while Gremlins CC came second with Xtinct. British Flag CC took third place with Kubuki, and in doing so were awarded the Hardy Spicer Championship Cup for the first time since 1968, following their well deserved success at this year carnival concerts. 
In the local tableaux class, Wills CC took first place with their theatrical entry #Priscilla, while in the open tableaux category Gemini CC took the honours with La Barricade. First place in the open feature class was taken by Masqueraders CC from Meare with their entry Stampede. Other class winners on the night included Bridgwater based clubs Newmarket CC and Marina Sydenham Juvenile CC.
At the finale the awe inspiring squibbing display brought a fitting end to the 2013 carnival celebrations. 175 squibbers lined the High Street and held aloft a wooden stick (cosh) with a firework (squib) attached to it. What a sight!
Away from the razzmatazz of the bright lights and sparkling atmosphere, fundraising is always an important ingredient of this community based carnival. A grand total of £21,705 was collected, and will be shared between the official Bridgwater Guy Fawkes Carnival charity and our supported local charities and good causes.
So that's it for another year. But what a great event. Those who came and saw it, will never forget it. And those who tried to ruin it, have rain on their face!
The countdown for Bridgwater Carnival 2014 has already begun…
Don't miss it – see you on Saturday 1 November 2014.
Seeing is believing… don't miss this amazing carnival!