Bridgwater Carnival 2016 was formally launched at a special event for businesses and organisations earlier this week.
Nearly 100 people representing 50 different companies and carnival clubs packed into Bar 27 in Bridgwater to see the formal unveiling of the popular event's 2016 publicity material, and to find out more about the significant impact the town's carnival has on the local economy.
The event was hosted by BBC local radio presenter, Emma Britton, and included a special appearance by Tommy Banner from The Wurzels.
During the evening, guests heard at first hand from businesses who have already embraced the benefits the carnival brings when it comes to town, and guest speakers on the night included Ian Dyer, chairman of Sedgemoor District Council, Roger Smith, Angel Place Shopping Centre manager, Darrell Hill, director of Somerset Willow Company, and Andy Meek, life member of Ramblers Carnival Club.  Various research projects and studies have concluded that Bridgwater Carnival is worth an estimated £4 million annually to the local economy – £2 million during the weekend of the carnival and a further £2 million from carnival related activities throughout the year."
Roger Smith, said: "Bridgwater Carnival brings a tremendous amount of benefits into the town and the surrounding area, and the impact it is having on the local business sector is improving year after year. All of the tenants in Angel Place recognise this and are fully behind the support we give this magnificent event, and we are so fortunate it happens right on our door steps."
Bridgwater Carnival committee members also revealed the new initiatives which were being launched and explored in readiness for Bridgwater Carnival 2016.  A new mobile phone and tablet app has just been developed and commissioned to give mobile users easy access to information on the carnival. This free app is now officially available to download from the Google Play Store, and will also soon be accessible from the Apple iTunes store. Another potential enhancement the carnival committee is currently considering is the live internet streaming of this year's carnival on Saturday 5 November. Currently the committee is assessing the demand for this innovative enhancement through customer research and an associated online survey, available from the event's official website.
Another new feature for this year has been the making of a short promotional film for the carnival concerts, which was premiered at the business launch event.  The film has been produced and directed by Conor Shutler from the University of Gloucester who is currently studying for a television production degree. The promotional film will be used on social media and on the website, and captures the true spirit and essence of the carnival concerts.
Gary Stephens, chairman of Bridgwater Guy Fawkes Carnival Committee, was absolutely delighted with the turn out for the launch event. He said: "The event was a great success and it was tremendous to see so many local business representatives interested in Bridgwater Carnival, our plans and how they can get more involved. We are always looking at ways in which we can take Bridgwater Carnival to the next level and to improve the spectator experience, and hopefully people can see how passionate we are in ensuring it survives for future generations to enjoy. On behalf of everybody associated with Bridgwater Carnival, I would like to thank everybody for giving up their valuable time to listen to what we had to say."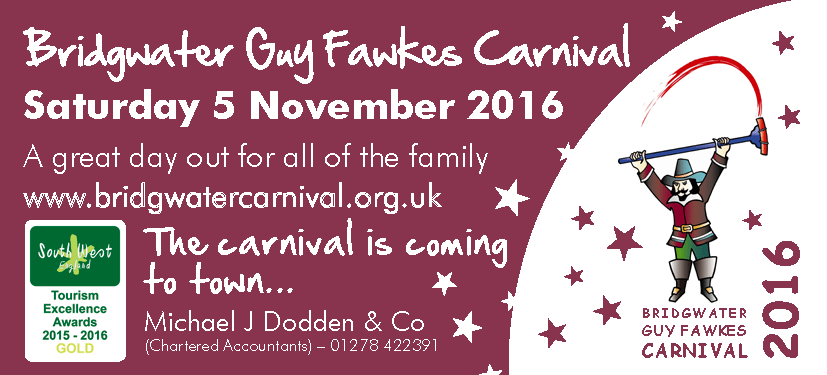 2016 Car Window Sticker
Once the formal presentations had finished, the 2016 Bridgwater Carnival publicity material was formally launched. The Carnival Inn (JD Wetherspoon) has kindly agreed to sponsor the 40,000 promotional flyers which are distributed to tourist information centres, motorway service stations and event attractions throughout the UK. And for the twelfth successive year, Michael J Dodden & Co (Chartered Accountants) has sponsored the coloured self-adhesive window stickers (21cm x 10cm). These stickers can be displayed on car and house windows, and every year requests for the popular stickers are received from all over the country.
Dave Stokes, publicity officer for Bridgwater Guy Fawkes Carnival, said: "I would like to thank both The Carnival Inn and Michael J Dodden & Co for sponsoring this year's publicity material. If it wasn't for the help and support we receive from local business and organisations, our carnival would not be as successful as it is."
If you would like some flyers and / or window stickers and play your own part in promoting Bridgwater Carnival, contact Dave at publicity@bridgwatercarnival.org.uk.