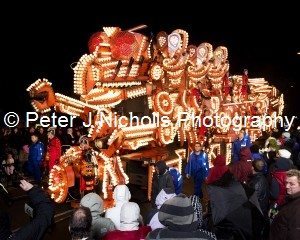 As the 2013 carnival season came to a glittering end at Glastonbury Carnival on Saturday 16 November, carnival clubs from Bridgwater celebrated after winning a whole host of top county carnival awards.
After taking first prize at all seven carnivals on the Somerset County Guy Fawkes Carnivals Association (SCGFCA) circuit, Ramblers CC and Ilminster's Gemini CC shared the highly coveted Starkey Cup for 2013. Following consecutive wins in their respective feature and tableaux classes at Bridgwater, Burnham on Sea, Weston Super Mare, North Petherton, Shepton Mallet, Wells and Glastonbury carnivals, the two popular clubs shared the honours with their entries Swarm Force and La Barricade.
This is the first time Ramblers CC have won the Starkey Cup since their Circus on Parade entry in 1988.
The Bridgwater club, who are based at The Bunch of Grapes, St John Street, also added to their county trophy haul in 2013 by taking other major awards including best decorated towing vehicle, The Whitbread Trophy judged by the seven carnival presidents, The Chairman's Choice Cup judged by the seven committee chairmen, The Tom Churton Memorial Trophy for best adult costume, The Charlie Denning Memorial Cup for county committee top table choice, The George Wigley Memorial Cup for most original adult entry and The Keith Watts Memorial Cup for technical achievement.
Bridgwater's Marina Sydenham Juvenile CC (Jitterbug Boogie) and Newmarket CC (F**tbusters) also dominated their respective juvenile and comic classes by winning all seven county carnivals, and Marina Sydenham JCC took a second county trophy after it won The Kay Bendle Memorial Cup for best juvenile costume.
There were also other successes for other Bridgwater entries – Crusaders Cubs won The Nicola Putt Cup for overall class 8 winners (group of juvenile masqueraders), and Renegades CC were awarded The Dave Arney Memorial Cup for best typical carnival cart music with the Waka Waka Remix by Shakira & Akon.
Dave Stokes, publicity officer for Bridgwater Guy Fawkes Carnival, said: "We are very proud of all of the Bridgwater carnival clubs and entrants who have taken part in the 2013 carnival season, and we must especially congratulate Ramblers CC, Newmarket CC, Marina Sydenham JCC, Renegades CC, Crusaders Cubs, and Gemini CC on their county success."