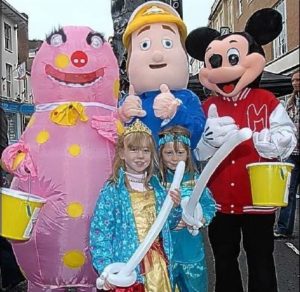 Organisers of Bridgwater Guy Fawkes Carnival are using the success and legacy of London 2012 Olympics and Paralympics to inspire enhancements to its popular carnival procession.
As well as introducing a new judging class for entrants with disabilities at Bridgwater Carnival 2013, Bridgwater Carnival Committee are seeking volunteers to be 'carnival makers' on carnival day, which is based on the innovative 'games makers' concept.
Chris Hocking, Bridgwater Carnival's development officer, explained: "Due to the amount of people in the town for last year's carnival and the number of people coming into our carnival centre asking general questions about our carnival related activities, we felt we needed to have a more visible presence on the streets where visitors could ask carnival related questions.
"The obvious solution we came up with was to have volunteer carnival makers in the town on carnival day, and therefore we would love to hear from carnival supporters and local people who are free on carnival day who would like to fulfil the role."
The carnival makers will wear special Bridgwater Carnival fleeces and will be armed with all of the necessary latest Bridgwater Carnival information to help visitors to the town.
If you are interested in helping and becoming a carnival maker, contact Chris Hocking on 01278 428220 / 07980 391803 or email.
Bridgwater Carnival 2013 takes place on Saturday 2 November, and has the reputation for being one of the largest illuminated processions in the world.