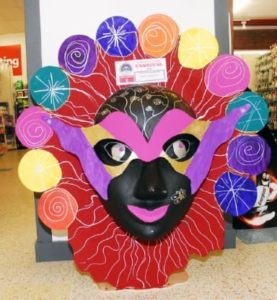 Twenty-three large carnival masks, designed and decorated by local school children, are now on display in and around Bridgwater town centre to form a carnival trail.
Fourteen local schools have taken part in the mask designing which saw children using different techniques to decorate the large masks, which are similar to traditional Venetian style Carnival masks.
A list is available from the Carnival Centre to help you locate all of the masks, and there is a prize to be won if you can name which school decorated each mask. Timeless Images have kindly donated a prize for the winning trail entry.
As well as the giant masks 400 smaller papier mache masks were also donated to local schools and activity groups for children to decorate for fun in the build-up to the Carnival celebrations.
Malcolm Cattle, Carnival President, said: "This year more than ever we are trying to engage with local children, to really get them excited about Carnival and understand what it's all about. We have been visiting local schools giving talks about the Carnival, its history and how its changed as well as giving them the chance to try on some costumes. We are also running a mini cart building competition, in conjunction with EDF, which helps children understand some of the skills needed to design and build a carnival cart. These children could be our cart builders of the future!"
This year's festivities kick off on Friday 3 November with a children's lantern parade and grand firework display at St Matthews Field. The children's dance parade will take place in the Town Centre on Carnival Day itself, Saturday 4 November, at 14.15 followed by a repeat lantern parade at 15.35. The mask trail competition will be open until 10 November.