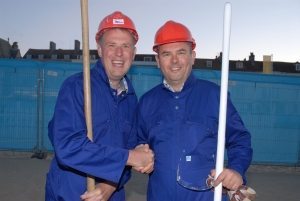 Organisers of Bridgwater Carnival, one of the oldest celebrations of its kind in the UK, are celebrating after a local company once again pledged its on-going support to the popular event.
Gerber Juice Company Ltd, based at Express Park, Bridgwater, and which employs 770 people, has confirmed it will be the main local event sponsor for Bridgwater Carnival 2013, which is being held on Saturday 2 November.
This year's sponsorship means that Gerber Juice Company have now been the main local event sponsor for the town's carnival for 13 consecutive years, and even before then the company spent a number of years supporting the carnival concerts.
Dave Stokes, publicity officer for Bridgwater Guy Fawkes Carnival Committee, said: "Everybody associated with Bridgwater Carnival really appreciates and values the partnership we have with Gerber Juice Company Ltd, and we would like to thank them very much for their continued sponsorship, friendship and support.
"Their help, both in terms of financial and professional, enables us to preserve, develop and secure the future of our carnival for future generations to enjoy. It also helps us to maintain our reputation as one of the world's largest illuminated processions."
Alan Armstead, Gerber Juice's Logistics Manager, added: "Gerber is delighted to continue its long standing support for the Bridgwater Carnival which so many of our employees contribute their time to and take part in. Furthermore, we are delighted that the monies raised for local charities and good causes increased in 2012."
Gerber Juice Company Ltd were instrumental with the development of the Pete the Pound fictional character for Bridgwater Carnival 2012, who was designed to help boost the amount of money collected on carnival night and was a prominent feature in local events in and around the Sedgemoor area last year. The company also played a major role in securing the appearance of popular children's television characters LazyTown at Bridgwater Carnival 2012. More surprises are planned for 2013, and these will be revealed later in the year.