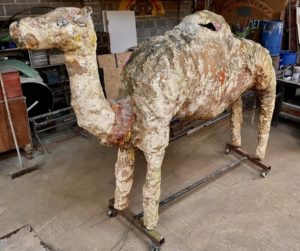 An iconic and popular Somerset landmark which has brought a smile to thousands of M5 motorists over the past four decades has been restored to its former glory by a well-known carnivalite.
Humphrey the Camel, who has lived in a field overlooking the northbound part of the M5 between Junctions 24 (Bridgwater South) and 23 (Bridgwater North) since the early 1980s, was in desperate need of a makeover after standing in all weathers for the best part of 40 years, and that's when carnivalite and BBC Somerset radio presenter, Andy Bennett, came to its rescue.
Made out of an old oil drum and bits of chicken wire, Humphrey was built at the farm in Bridgwater where he still stands and which is owned by Terry and Lorraine Hooper. The camel was originally made by Terry in 1980 for a Bridgwater Young Farmers entry into Bridgwater Guy Fawkes Carnival, and ever since then he has continued to entertain people as they drive along the motorway in Somerset.
Andy Bennett, who is a member of Mendip Vale CC and who lives in Burnham on Sea, said: "When I was a kid, the M5 camel was the landmark to say you were near home. Long before The Willow Man and the Morrisons factory, it was always the M5 camel you looked out for.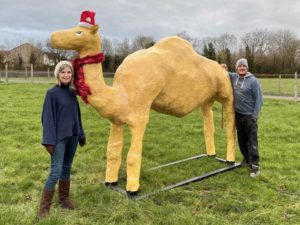 "I interviewed Lorraine about Humphrey back in November for one of my radio shows, and when she said that they were looking for someone to repair him and fix him up, I just couldn't resist. Without having a carnival to do in November, I thought this would keep my hand in at building stuff. The M5 camel has always been an unofficial landmark of Somerset, and hopefully this will keep him going a bit longer."
Lorraine Hooper, said: "It's great to get him back all painted up and repaired. We are hoping to put him out in time for Christmas. He has so many fans, we get regular fan mail, and each year he even gets Christmas cards."
"When my husband Terry made him all of those years ago, he never thought he would still be here and be so well-known nearly 40 years later. We often decorate him depending what time of year it is, so he wears a Christmas hat at Christmas, and a sun hat in the summer time."
Humphrey has built quite a following and reputation over the years much loved broadcaster, Terry Wogan, used to talk about him regularly on BBC Radio 2 traffic reports. Now he has received a full makeover, we hope he brings a smile to the faces of a whole new generation of people as he watches over the M5 traffic.