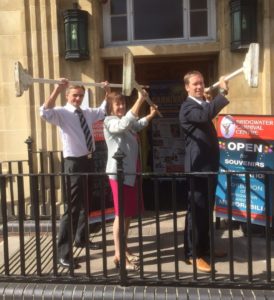 One of the country's main suppliers for office storage solutions have just confirmed their sponsorship of Bridgwater Carnival 2015.
James Tobias, who are based at Wylds Road in Bridgwater, are set to sponsor the glittering squibbing display, which will take place after the carnival procession on Saturday 7 November and which will bring the town's 2015 carnival celebrations to an end for another year.
Phil Jones, Managing Director for James Tobias, said: "I am fairly new to the area and already I have heard so much about what the carnival and squibbing means to the people of Bridgwater.
"Some of our staff are actively involved with carnival in one way or another, and it seems to be an event which really benefits the local community in every sense. Therefore, I am delighted to confirm we will be one of the sponsors of Bridgwater Carnival 2015, and I am really looking forward to it."
Dave Creedy, Squibbing Officer for Bridgwater Guy Fawkes Carnival Committee, added: "We are so thrilled that James Tobias have agreed to pledge their support to the carnival celebrations and I would like to take this opportunity to thank them for their support and kindness.
"Every year the carnival procession and the squibbing display gets bigger and more impressive and if it wasn't for the generosity of companies such as James Tobias, then our carnival would not be as popular as it is."