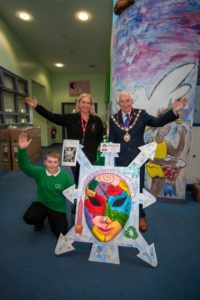 With the start of Sedgemoor Masquerade Week just under a week away, 21 large carnival masks, designed and decorated by local school children, are now on display in shops and businesses  around Bridgwater town centre.
Organised by Bridgwater Guy Fawkes Carnival Committee, 16 local schools have taken part in the popular education project, which has seen children using a variety of techniques to decorate large masks, similar to traditional Venetian style carnival masks.
The masks have been positioned around the town to create a trail where participants can now take part in a special competition to locate all 21 masks and be entered into a prize draw where one lucky contestant will win a £25 gift/book token. The mask trail is operational until 12 noon on Friday 5 November, and entry forms are available from the Bridgwater Carnival Centre or from  the link below. Most masks can be seen from shop windows, but a few will need to be viewed by entering the premises, and those taking part will be expected to follow necessary COVID-19 precautions.
The schools and nurseries who have been involved with the project and decorated masks are: Somerset Bridge Primary School, Northgate Primary School, St Mary's Primary School, Willowdown Primary School, St John and St Francis Primary School, Brent Knoll Primary School, Pawlett Primary School, Cannington Primary School, Stogursey Primary School, Otterhampton Primary  School, North Petherton Primary School, Puriton Primary School, Bridgwater College Academy Primary School, Martock Primary School, Little Crickets Nursery and Haygrove Secondary School.
Sarah Humphrey, Bridgwater Guy Fawkes Carnival's Entertainment and Schools Liaison Officer, said: "Today's children are the carnivalites of tomorrow, and hopefully they will go on to play their own unique part in ensuring our carnival tradition continues for future generations to enjoy.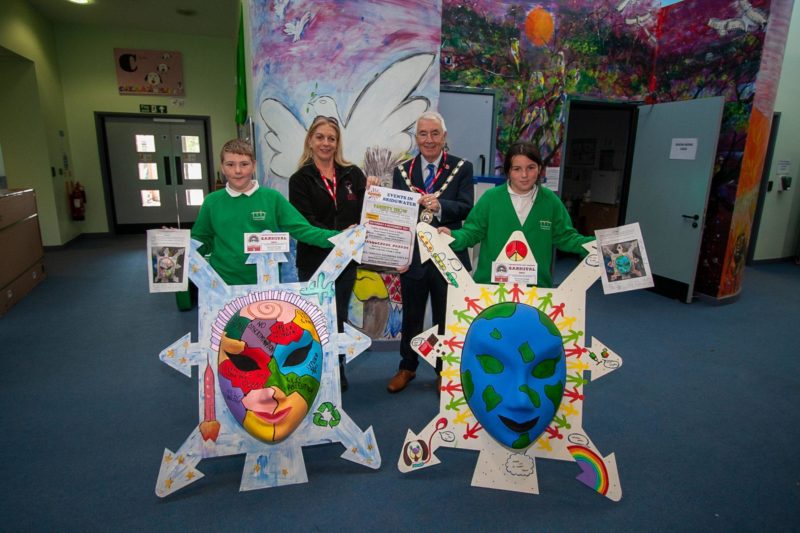 "This year's theme is 'The Future' and the schools have interpreted the theme using the imagination of their children, and once again they have designed some absolutely wonderful mask  creations. I am extremely grateful to all the participating schools for continuing to support and engage with our carnival education programme.
"The mask trail is a fantastic way to kick-start our Sedgemoor Masquerade Week activities, and it is a chance for us all to enter into the spirit of carnival in order to maintain the continuity of our amazing tradition."