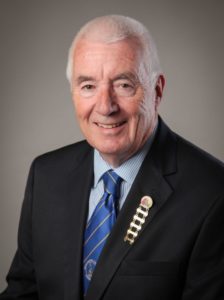 Earlier this year Mike Crocker became the new president of Bridgwater Guy Fawkes Carnival Committee. Mike comes from a carnival loving family and has plenty of carnival experience. He first took part in Bridgwater Carnival in the early 1960s and after spending time in British Flag CC and Wilfs CC, Mike joined the carnival committee in 1980.
With our 2019 carnival just around the corner, The Squibb' caught up with Mike and made him the first subject of a new e-newsletter feature called 'on the spot'.
Full Name
Michael John Crocker
Age
70 years old
Place of Birth
Bridgwater
Occupation
I was a process engineer for 42 years at BFF and retired in 2013.
What was your first childhood memory?
On the school bus travelling to my first school which was Albert Street School (infants / juniors), Bridgwater
Year first got involved with carnival
My first real memory of Bridgwater Carnival was as a young boy and being taken by my uncles to see an entry being constructed for the annual procession back in the 1950s. In 1961 I took part in the carnival as a walking entry with some friends, and I have been involved ever since.
What is your favourite food and drink?
Lamb Shank from The Olive Tree restaurant (Bridgwater) or gluten free fish and chips from Knights of Glastonbury. I also enjoy a tipple of single malt whiskey.

What is your favourite holiday destination?
Las Vegas.
Best carnival cart you were involved with
British Flag CC's 1973 entry Branch Line Special
Favourite carnival cart of all time
Gremlins CC's 1978 entry Galactic Guardians… it was a real innovative cart and it proved to be a turning point in the evolution of carnival cart designs.
Favourite carnival concert stage performance of all time
I have two personal favourites – Redskins by Marketeers CC in 1987 and People of King Colobus by British Flag CC in 1972.
Favourite song on a carnival cart
Again I need to go back to my favourite carnival cart of all time (Gremlins CC's 1978 entry Galactic Guardians) and the music used on that was Jeff Wayne's 'War of the Worlds'. It was just so appropriate for the cart, and very atmospheric.
What has been your greatest achievement?
Marrying my childhood sweetheart, Sue, exactly 50 years ago.
Do you have any hobbies apart from carnival, if so what are they?
I love watching football, and I have been a lifelong Manchester Utd supporter.
If you could be Prime Minister for a day, what would you pass and why?
I would introduce a law making poverty illegal.
If you were washed ashore on a desert island and you could have five companions, who would they be and why?
George Best (footballer), Margaret Thatcher (prime minister), Mary Berry (food writer), David Attenborough (broadcaster) and Bear Grylls (adventurer).
If you had a magic wand and could change one thing about carnival, what would it be?
That's a really difficult question as I'm not sure whether I would change anything. One thing I would like to do is secure a site where all of our clubs could build carts for years to come.
What would you like to be your epitaph?
I would like to be known as someone who always did his best.
When are you at your most happiest?
I'm at my most happiest when I am surrounded by my family.