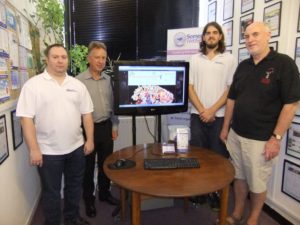 A new state of the art website is set to be launched in readiness for Bridgwater Carnival 2013
One of the South West's best known annual events is pushing the boundaries of technology with the introduction of a new state-of-the-art website.
The Bridgwater Guy Fawkes Carnival Committee is delighted that Taunton web design company, Somerset Web Services, has developed the eye-catching website at no charge as part of a sponsorship partnership.
The new website (www.bridgwatercarnival.org.uk) which will be launched officially on Monday 16 September incorporates responsive technology which means it automatically adjusts to display on smartphones and tablets. It uses the world's leading content management system which ensures it is simple and intuitive to update and is optimised for Google and Bing searches.
Other features include an online shop which allows carnival supporters to purchase official merchandise, a dynamic display of Bridgwater Carnival's latest Twitter posts, and an advanced Google map overlay showing specific points of interest.
The site contains a wealth of information on the spectacular carnival procession, the carnival concerts and the traditional squibbing, as well as video clips, photographs and results from carnival celebrations from yesteryear.
Rita Jones, president of Bridgwater Guy Fawkes Carnival Committee, said: "This is an exciting opportunity to promote Bridgwater Carnival to an international audience, and on behalf of the carnival committee I would like to thank Somerset Web Services for their support, help and sponsorship in bringing this project to a successful conclusion.
"It has taken a few months to finalise the content and style of the new website, and specific thanks must also go to carnival committee members, Dave and Janet Croker, for their efforts in populating the new website with all of the information, video clips, photographs, and other carnival related features. It is certainly the best website I have ever seen.
"Nigel Finch, managing director for Somerset Web Services, added: "The carnival generates so much trade for the local community and we want to play a part in its continued success.
"We hope many people will purchase souvenirs from the online shop to help keep the carnival going for many years to come."