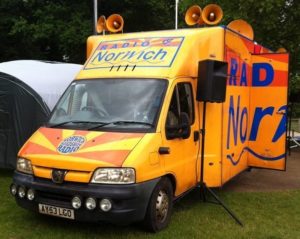 Bridgwater Carnival is just days away, and while clubs are putting the finishing touches on their entries, one local organisation is preparing to do something that's never before been seen in the procession:  new community radio station Access FM will be broadcasting live from the procession itself from on board a mobile studio!
Access FM is a new community radio station for Bridgwater that launched on June 9th and broadcasts on 104.2fm and online from its base at Bridgwater YMCA.  During the carnival procession members of the Access FM team will be broadcasting live from a fully equipped mobile studio, as used in the recently-released Alan Partridge film, "Alan Partridge:  Alpha Papa".  The mobile studio is owned by Special Media Projects, and Grant Francis (CEO) said this, "We've converted what was once a mobile library from a movie set to a fully functional mobile radio studio.  It's a great resource to be able to offer radio stations, and we're really excited about being able to provide a mobile platform for Access FM to bring something completely new to their town."
The mobile studio (pictured) can still be seen in full Radio Norwich livery, coinciding with the DVD release of "Alan Partridge:  Alpha Papa", and will provide carnival spectators the rare opportunity to see a genuine piece of movie memorabilia.  As well as broadcasting from the procession, Access FM will have roving reporters on foot reporting from along the route, so be sure to look for their brightly coloured t-shirts.
Access FM
facebook.com/ AccessFM
twitter.com/ bwAccessFM