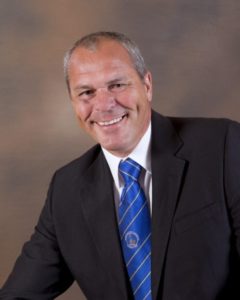 Being responsible for health and safety and for maintaining overall hall and audience order at tonight's show would fill many of us with fear.
But for Tony Rudge, our new carnival concerts chief steward, it is a role he can't wait to get started in.
Tony, who was a member of Young at Heart Carnival Club in the 1990s and has been on the carnival committee for the past three years, has taken on the crucial role after Paul Bastin stepped down.
"As a previous member of an out of town carnival club, I didn't really appreciate how important or just how good the carnival concerts were, until I joined the carnival committee," said Tony who works for British Telecom as a business development manager.
"Ever since then I have been completely hooked, and totally amazed by the incredible amount of extra effort put in by the members of all the clubs over and above building their carts for Bridgwater Carnival night."
Other duties Tony will be responsible for as chief steward includes: managing his team of hall stewards, showing and helping concert goers to their seats, working closely with the back stage crew and answering general queries.
He added: "I feel very proud to be involved with such a fantastic show, and I am really looking forward to the challenge of making sure every night is a success. It's going to be hard work, but also a lot of fun."
We wish him well…..
And if you are ever out and about and hear Tulips of Amsterdam ringing out, then you can be sure Tony is nearby. He changed his ring tone on his mobile phone to the catchy tune after watching Centurion Carnival Club's 2012 stage show!